My Roles
Art Director
Designer

timeline
Spring 2018
In the streaming era, radio still has the unique ability to bring together local communities. I helped develop the look of today's college radio in Austin.
CD Design
Every spring the crew of Local Live releases a compilation of the year's favorite performances. Local Live airs live studio performances from local artists on radio and livestream every Sunday night since 1998.

I created the CD and promotional materials for their 21st release. Each release has a design unique from past years' designs and highlights the year's theme. This year's theme: "livin' la vida local."

To support the year's theme "livin' la vida local," I used a topographic map of Austin as the main design element. I chose to contrast retro and modern typography as a subtle nod to the rich, but growing history of Austin music.

We sold copies at Waterloo Records and threw a show in support of the release. I designed corresponding graphics to promote the show.
Merch Design
I wanted to create station merch that would have a wide appeal to DJs and general public.

Small challenge with this: the merch needed to sell quickly because historically merch had not sold well for the station.
To encourage buying, I went with reliable avenues like shirts and pins. I used off-brand colors and designs to make the merch feel limited edition and encourage buyers to act fast. They did, plus offering two colors of shirts led many folks to buy both versions.

Poster Design
KVRX thrives off unique poster designs for its radio shows and concerts. Each brief depended on the occasion. These 11"x17" designs are for pasting around town.
The biggest practice here was visual hierarchy. With a lot of information to share at once, I needed the color, font, size, and placement to draw the eye to each brief's most important details.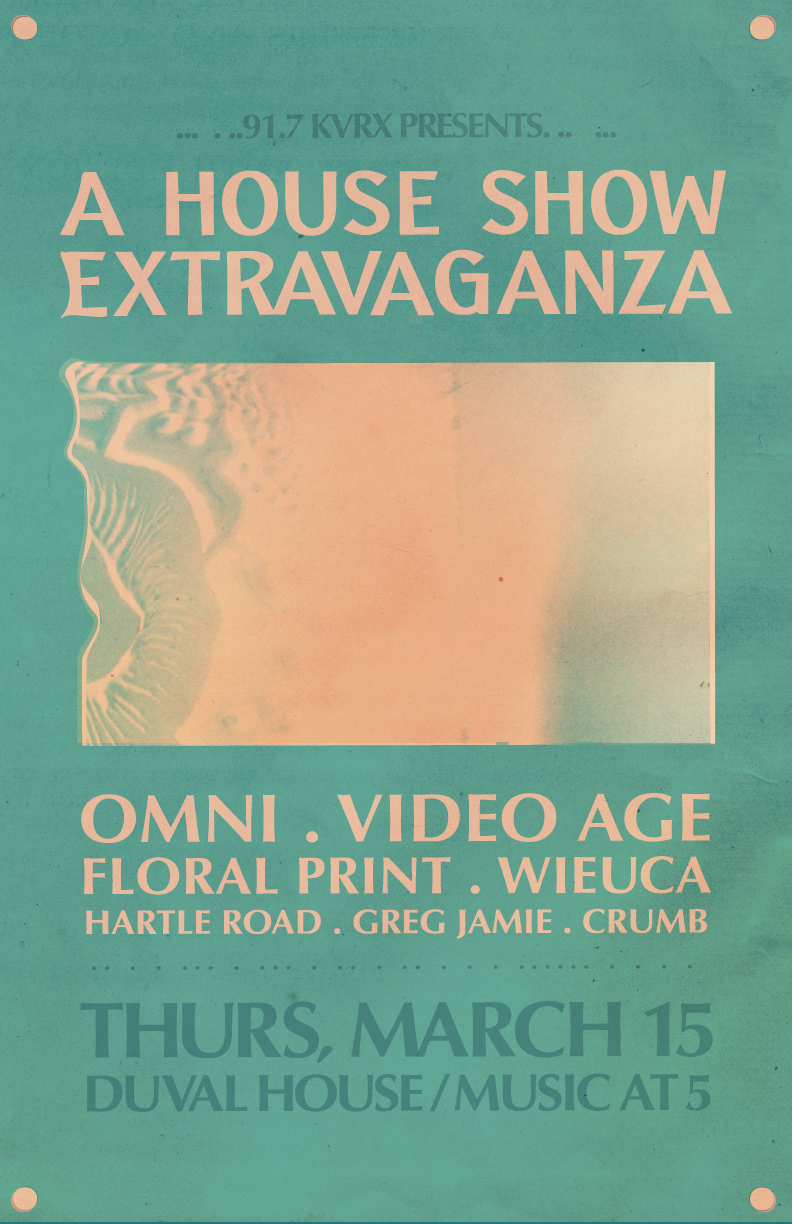 I created digital posters for Facebook events, too. I gravitated toward bright colors and strong lines to cut through the clutter of busy Facebook feeds.